OUR ULTIMATE GOAL IS TO DELIVER THE RIGHT INFORMATION, THE FIRST TIME. WHAT WE DELIVER ENABLES, SUPPORTS, AND GUIDES OUR CLIENTS IN MAKING SOUND, FACT-BASED BUSINESS DECISIONS.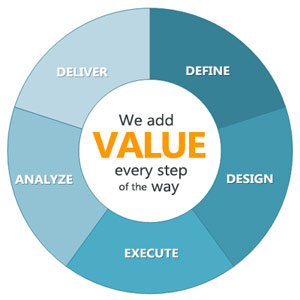 For the past 25 years, we have designed and implemented virtually every type of business research for hundreds of companies in nearly every major industry. Our methodologies and end products satisfy our clients' needs, from basic business information to highly creative, complex projects combining a multitude of research, analytical, and organizational skills.
We don't experiment on you. We already know what works and what doesn't.
Our seasoned professionals follow a tailored research design process. Together with our client, they define the project's research objectives and ultimate business goals. This enables us to design an optimum research methodology while respecting our client's time and budget constraints. We then execute and carry out the plan. Once the research is complete, we summarize, analyze, and deliver the results in whatever form best meets your needs.
Merger & Acquisition Research
Our M&A research clearly points our clients towards – or away from – specific companies they would consider partnering with or acquiring.
At the core of every project are in-depth, candid discussions, frequently with:
Prospective acquisition candidates
Prospective business partners
Target companies' current & prospective customers
Our greatest strengths:
Well versed in the elements of successful businesses, thus the application of good judgment in qualifying prospective acquisition candidates
Highly experienced interviewers elicit meaningful conversations with company executives
Select or combine different research techniques depending on the role our clients wish us to play
Privately subscribe to and expertly search non-public databases of companies
Cost-effective and fast turnaround
Recent projects:
Over the years, we have helped a venture capital firm select its acquisition candidates. While they dig into the financials, we research the external market: whether or not this is a good industry to be in; the target company's market position & outlook, its competitive strengths & weaknesses, how it is viewed by the marketplace, and the loyalty of its customer base. Our client wanted to acquire an established national or regional chain of automotive maintenance and repair shops but had no specific candidates in mind. Starting with thousands of companies in this industry, we systematically screened and continually narrowed down the list. We employed a variety of research techniques, including candid discussions with many target companies' presidents and owners. We ultimately delivered detailed profiles of the top ten companies that best met all of our client's criteria.
Market Sizing
When there are no published statistics on the market for a product or service (which happens frequently!) we can develop reliable mathematical estimates.
Every project begins with our considerable research experience in finding the best, most reliable statistics available. From there, we follow a disciplined mathematical approach to fill in the missing pieces. This often involves a combination of published data, information from interviewing market competitors & industry experts, and building a sound mathematical equation or model.
Our greatest strengths:
Decades of experience finding statistical data from trade, business & academic research, and government sources – and knowing which sources have good reputations
Principals with formal educations, business training, and applied experience in mathematics and statistics
A solid understanding of how businesses and markets are structured
Recent projects:
A national provider of specialized training for manufacturing employees wanted to know the size of its potential market (in annual training dollars). Calculating this was complicated by the fact that their market encompasses only certain company sizes, industries, and employee occupations. In one week, we built a step-wise mathematical model taking all of this into account (over 30 variables) that yielded a very reasonable market estimate. Plus, since it was delivered in Excel with all the equations built in, our client can now calculate their own annual updates.
A well-known publisher of healthcare-related business reports outsourced twenty-seven of them to us. Each report covered the U.S. market for a different medical device, type of equipment, or medical supply category. They all required sizing the overall market and providing market shares for all major competitors. With the client's requirement of original research only, our statistics were obtained exclusively through interviews of competing producers and other industry experts.
Social Media Monitoring & Reporting
A business's return relies upon the strength of its customer relationships and its reputation in the marketplace. Our social media monitoring helps clients gauge this success and identify potential trouble spots, in real time.
We provide one-time snapshots and ongoing monitoring and reporting. Sometimes we just jump in and participate! Every project begins with our selectively gathering whatever is most relevant to our client's interests. We access the top social media networks, many that are more obscure, and those that are specific to our client's business, such as industry blogs. Our reports summarize and quantify our findings across different variables.
We also offer analytical reports summarizing trends and themes that are surfacing in social media that can be integrated into our clients' marketing and business development strategies.
Our greatest strengths:
We have a solid understanding of how social media can be used to benefit business strategies.
We're aware of the best social networks for business information.
We use analytics and internet monitoring tools to yield highly selective and thorough results.
We sometimes participate directly to ask our own questions.
Recent projects:
A large sports company retained us to gauge its social media success versus others in their industry. We compared each company's followers across the leading social networks. Our visual, detailed reports made it easy to see those areas where our client had surpassed its competitors and where it was gaining traction. We provided valuable insights about a Fortune 500 company's social media fan base, quantifying growth trends in selected areas. Our client used the information to make informed decisions about some of its marketing strategies.
We were asked to find out, over the weekend, which cars sold in the U.S. have heated windshield wiper reservoirs. Unable to reach industry experts, we blogged all day Saturday with automotive enthusiasts, confirmed their information Sunday through published car specifications, and delivered a complete and accurate list Monday morning.
Law Firm Research
Our research for law firms and corporate counsel tracks down critical, often obscure documentation that supports court cases.
For IP law practices, we excel at creative non-patent prior art research and tracking down obscure and retrospective documents such as old products and product catalogs, manuals, technical specifications, drawings, photographs, packaging, and advertising.
In addition to IP work, we also provide expert research for law practices specializing in:
Business restructuring and bankruptcy
Mergers and acquisitions
Environmental law
Product liability
Our greatest strengths:
Our resources and skill sets are different than those of law firms
We excel at obtaining any documentation that still exists
Our sources are worldwide, developed over the past 25 years
This includes reliable people on the ground in numerous countries
We are sticklers about sources – we know that whatever we provide must be good enough to hold up in court
We have provided non-patent prior art research to the United States Patent and Trademark Office for over 15 years
Recent projects:
We found and purchased 78 obsolete electronic toys and games with specified manufacturing dates & serial numbers; and we identified the individual manufacturing plant that produced each one. We researched and documented several dozen Internet retailers' "customer shopping cart" software systems and the companies that supplied them.
We documented every form of a disputed logo's historical and current usage by a particular manufacturer. This included product catalog pictures, service partners' web pages, product photos from online auction sites, pictures and video from social networking sites, and candid snapshots we took while personally visiting the company's local distributor.
Marketing & Branding Research
Our customized research lights the path for marketing and branding strategies – for individual products & services, business divisions, and entire companies. At the core of every project are in-depth interviews of prospective customers. We explore their knowledge, perceptions, loyalties, biases, and buying practices. If the purpose is to craft a new package, a new message, or a new name, we learn what most attracts and engages different customer segments – and why.
If the goal is to develop a broader marketing or branding strategy, we delve more deeply into customer requirements, buying practices, and competitive intelligence.
Our greatest strengths:
The "up front" and "back end" of the project: working with clients to fully understand their issues drives (1) our creation of a highly effective research design and (2) our strategic analysis of the research results.
As a full-service market research firm, we can apply a range of different research methods to satisfy all the requirements of complex projects.
Cost-effective and fast turnaround

Recent projects:

Before naming an iconic new healthcare building in downtown Cleveland, its administrators asked us to solicit feedback from eight different stakeholder groups, including the city's business, government, and medical communities. We surveyed each group via the Internet. Considering a wide variety of opinions, our analysis concluded that one name in particular would satisfy most stakeholders: "Global Center for Health Innovation." Within 30 days of delivering our report, this name was formally chosen and announced.

For a major metropolitan hospital, we surveyed over 500 households in its surrounding city and suburbs. We "peeled the onion" of public perception, learning what area residents thought of this versus competing hospitals and the extent to which their perceptions were accurate or not. This enabled us to assess the effectiveness of the institution's current marketing efforts and recommend needed changes.

Prior to introducing a new luxury sports vehicle in the U.S. market, the manufacturer engaged us to tell them:
How many vehicles could they expect to sell?
Who would buy them and in what parts of the country?
How should they be distributed and serviced?
What product features would customers want?
How much would consumers be willing to pay for different models?
To answer these and other questions, we:
Conducted a nationwide Internet survey of affluent consumers
Conducted focus groups in U.S. cities where our Internet survey indicated the greatest interest. Prior to each focus group, we gave an outdoor presentation and ride in the vehicle to every participant
Conducted trade-off analysis (modified conjoint analysis) to determine relative values of various product features
Created mathematical models to forecast sales and pricing scenarios for different vehicle models
New Product Development Research
Our product development research gives companies the critical market information they need to improve existing products and develop new ones. We deliver detailed, quantified intelligence on customers' current buying practices, supplier qualifications, and future product requirements.
At the core of every project are in-depth, candid interviews of current and prospective customers. These frequently include technical discussions surrounding our clients' new products, processes, services, and technologies.
Our greatest strengths:
Well-versed in industrial manufacturing products & markets
Highly experienced interviewers who routinely explain and discuss complex mechanical, technical & scientific subjects
Proven research methodology from having done hundreds of similar projects
Flexibility to research & deliver as much or as little as needed
Cost-effective and fast turnaround
Customized research design & analysis support not only product development but related business decisions:
early "go/no go" decision
identification of unmet customer needs
essential (vs. "nice to have") product design & features
price points for different versions
sales & distribution requirements
branding/marketing strategy
Recent projects:
A global manufacturer of material handling equipment sought customers' opinions about its newest product design. They also needed information about pricing, brand loyalty, and product financing, all important buying factors. The information we obtained from key decision makers at several hundred companies told the story; it confirmed many of our client's choices but prompted them to change several product features before going into production. We also told them exactly what it would take for their competitors' customers to switch suppliers.
A large medical equipment manufacturer wanted to know if dealers would pay the additional cost of a new feature on oxygen concentrators delivered to home health care patients. Part of our job was to explain the new feature, both technically and from a cost-savings perspective, to several hundred distributors. Our research quantified how many of them would buy the more expensive model, resulting in our client confidently introducing it two months later at their industry's largest trade convention.
Recent projects continued:
Our client, a startup company, invented a unique machine that makes high quality artisan breads in front of customers at supermarkets. Before the design was finalized, we were asked to run the concept by the corporate bakery division heads of the largest grocery store chains in the U.S. – an elusive group to reach. Ultimately, we had lengthy discussions with 15 of them, who collectively make decisions for more than 6,000 stores. Several were so intrigued by the idea that they offered to beta test the machine in their stores. A few others were sufficiently interested that they invited our client to come and meet with them.
A biotechnology company had developed a promising new coating for implantable medical devices. We were asked to determine the best possible applications, markets, and customers for this technology. The three-month project involved extensive research of print and electronic sources as well as 70 interviews of the medical community, medical & scientific organizations, university research departments, and manufacturers of both medical devices and competing coatings. We ultimately delivered a 230-pg. report detailing the global market for these highly specialized coatings, 21 specific product applications with the scientific and business rationales supporting their selection, plus recommendations of device manufacturers, by product, with whom our client could potentially partner.
Satisfaction Research
Our satisfaction research on customers, employees, and other business partners delves deep. We uncover:
not just how they feel about our client, but why
views about other companies
actual needs versus wants
what their 'final straw' would be, will be soon, or already was
we ultimately quantify every component of any group's satisfaction and dissatisfaction.
At the core of every project are in-depth, candid discussions and/or a quantitative survey of:
Customers
Employees
Business partners
Other stakeholder groups
Our greatest strengths:
The "up front" and "back end" of the project: working with our client to fully understand the issues, creating a highly effective research design, and analyzing the results to highlight strengths and weaknesses
Knowledgeable, experienced, and sensitive business interviewers who leave a positive impression because they're using our client's name
Cost-effective and fast turnaround
Recent projects:
Through a client's intranet, we've surveyed their 16,000 global employees every two years since 2008.We now administer the survey in 5 languages and the results are tabulated by continent, country, and internal department. Each new survey deletes a few questions and adds others, enabling coverage of current topics and issues. Still, enough remains the same to statistically measure regional differences and meaningful changes over time.
Recent projects continued:
For one of the country's largest real estate developers, we conducted in-depth interviews, by phone, of 40 of their largest business partners. These included large real estate brokers, developers, lenders, corporate tenants, architects, homebuilders, city redevelopment departments, and others. Our final report evaluated our client's strengths and weaknesses, capabilities versus competitors, attributes as a development partner, and anticipated challenges to their businesses.
A Fortune 500 company wanted to assess employee satisfaction with its 7 internal service organizations. In order to fully understand employee expectations and usage of these services, we conducted a large on-site focus group for each one. The wealth of information these groups yielded enabled us to write a highly customized survey for each service organization. These 7 surveys were then administered to thousands of employees via the company's intranet. We tabulated the results and made on-site presentations of our findings and recommendations.
Institutional and Government Specialized Research
Educational Institutions
Our research for colleges, universities, and secondary schools has ranged from surveying students, faculty, alumni, and parents to working hand-in-hand with administrators to develop new institutional branding and marketing plans.
Healthcare Institutions
Most of our work for healthcare institutions supports their external marketing efforts. For example, we recently completed an in-depth perception study for a major hospital based on interviewing hundreds of residents in surrounding communities. In addition to hospitals, we've worked for nursing homes, home health organizations, and assisted living retirement communities.
Nonprofit Institutions
We help nonprofits with both internal and external issues. On the internal side, we recently benchmarked the compensation packages of selected museum directors across the country. On the external side, we frequently assess awareness and perception among different stakeholder groups, as well as explore new ideas for growing visitors, memberships, and endowments.
Government Research
For three decades, we've maintained our mastery of government statistics in support of quantitative market research. Knowing in advance what industry data the government collects (and doesn't) and where to find it is a tremendous time saver.
As for primary market research, we have:
Interviewed registered voters about upcoming ballot issues
Conducted focus groups of business owners about partnering with their local government
Surveyed local government officials about business development plans
Interviewed federal government officials on a wide variety of topics
The Research Investment is nationally certified by WBENC (Women's Business Enterprise National Council) as a woman-owned business and is registered on CCR, ORCA, and other contractor procurement databases of the Federal Government. Our WBENC certification helps Federal contractors meet mandates for supplier diversity when they outsource research to us.
Investor Relations
Our turnkey investor relations research provides public companies with a current snapshot of how they're viewed by the investment community.
At the core of every project are in-depth, candid discussions with:
The company's largest institutional investors
Institutional investors who recently divested the stock
Sell-side analysts who closely follow the company
Sell-side analysts who follow industry peers
We typically create – conduct – summarize – and analyze detailed interviews of leaders across these four key shareholder groups.
Our greatest strengths:
Well-versed in the investment industry and corporate strategy & finance
Highly knowledgeable, experienced interviewers
Successful process in place
Customized design & analysis addresses current company issues
Cost-effective and fast turnaround
Recent projects:
A company experiencing strong revenue growth through acquisitions but virtually no organic growth due to the poor U.S. economy wanted to know how strongly its shareholders continue to support its capital allocation decisions.
A global mining company wanted to explore its attractiveness to the North American and European investment communities.
A corporation with three profitable divisions and an underperforming one wanted feedback from the investment community before making any major decisions about its weakest division.
Company Intelligence
Competitors, definitely, but we also research current and prospective:
Customers
Suppliers
Distributors
Acquisition candidates
Business partners
We find out how they operate, how successful they are, their strengths & weaknesses, what they've been up to, and what they're planning.
We often start by finding what's available in print. This includes the internet but also our annual subscriptions to large, private, global databases. These contain company information that is NOT FREE (and frequently not at all) on the internet. Depending on what we're looking for, we frequently fill in the gaps by interviewing all kinds of companies, starting with multiple access points at the target company itself. We may go on to interview the company's customers, suppliers, competitors, former employees, and whoever else would know about them.
Our greatest strengths:
Ability to retrieve virtually anything in print, anywhere in the world
Deep grounding in how companies are structured, how they operate, and how they compete – we understand the big picture and know how all the pieces fit
More than 25 years of experience helps us know up front what information we likely can/can't obtain; who is more/less likely to speak with us
Ability to identify and interview knowledgeable individuals in key companies
Professional integrity in obtaining sensitive company information
Recent projects:
A Fortune 500 producer of electronic equipment asked us to research and write a detailed report on its largest global competitor, a European manufacturer attempting to penetrate the North American market.
Our 50-page report included sections on:
Company direction & vision
Organizational structure
Worldwide strategy, by region
Financials (including estimates for global regions and product groups)
Product and R&D strategy
Sales and distribution processes & strategy
Service & support capabilities
Marketing
Hiring & employment practices
Opportunities and threats
Job descriptions and locations of selected U.S. employees.
North American distributor network (detailed profiles on 19 companies)
With the assistance of our research partners in Europe, Asia, and South America, we successfully unraveled and interviewed the worldwide purchasing organizations of two global corporations. Each one's complex buying processes differed by continent, and often by country. Our report explained how and where each company sources a particular group of products for its factories and warehouses, wherever they are in the world.
For a global manufacturer of material handling equipment, we profiled every product distribution center owned and operated by two of the largest retailers in Europe. Among the detailed information we delivered was the unit count, by brand, of the material handling equipment in each facility.
Industry Specific Research
Our strongest suit has always been B2B research in a wide range of industries, including many Fortune 500 companies.
We have an insider's knowledge and understanding of certain industries due to our frequent research – for them and about them – for over 25 years:
Hospitals and other healthcare providers
Biotechnology
Medical devices
Polymers
Specialty chemicals and advanced materials
Vehicle components
Instrumentation
Heavy equipment & machinery
Construction materials
Educational institutions
Cultural institutions
We also have decades of experience as outsourced research partners of:
Law firms
Management consultants
Public relations firms
Venture capital firms
M&A and turnaround specialists
Failure analysis engineers